ASHA was founded in 1914 in New York City, formed out of early 20th century social reform movements focused on fighting sexually transmitted infections (known then as venereal disease, or VD) and prostitution. Now, more than 100 years after its creation, ASHA remains America's nonprofit authority for sexual health information.
Our mission
The American Sexual Health Association promotes the sexual health of individuals, families and communities by advocating sound policies and practices and educating the public, professionals and policy makers, in order to foster healthy sexual behaviors and relationships and prevent adverse health outcomes.
Our Vision and Values
The American Sexual Health Association (ASHA) envisions a world where sexual and reproductive health and rights are universally recognized, and where comprehensive sexual health information and services are accessible and available to all, free from coercion, violence, and discrimination across the lifespan.
ASHA believes that all people have the right to the information and services that will help them to have optimum sexual health. We envision a time when stigma is no longer associated with sexual health and our nation is united in its belief that sexuality is a normal, healthy, and positive aspect of human life.
ASHA's History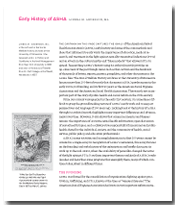 ASHA is America's authority for sexual health information. We are an award-winning and trusted 501(c)(3) non-profit organization that has advocated on behalf of those at risk for sexually transmitted infections (STIs) since 1914.
ASHA was founded as the American Social Hygiene Association in 1914 by a group of public health reformers committed to attacking an undesirable social condition–venereal disease, or VD–that they believed could be improved through medical and educational means. The shame and reluctance to talk about sexuality was now weakened enough so that the public was at least generally aware of the dangers posed by VD. This was the first social marketing effort to mix physical and moral fitness for prevention of VD.
An early ASHA supporter was Thomas N. Hepburn, M.D., who joined after attending to a young woman who had died of acute gonorrheal peritonitis just months after her marriage to a man whose friends had put him to bed with a prostitute at his bachelor party. Additional founders include Charles W. Eliot, President Emeritus, Harvard University, Jane Addams, Hull House, Chicago, Martha P. Falconer, a pioneering social worker, John D. Rockefeller, Jr., and William F. Snow, M.D., Stanford University professor.
ASHA Milestones
1914: American Social Hygiene Association was founded.
1920s: John D. Rockefeller, Jr. commits funds to support ASHA's mission.
1927:  ASHA establishes the Valentine's Day Committee to promote sexual responsibility.
1937:  ASHA collaborates with the Federal Council of Churches and the National Congress of Parents and Teachers to promote sex education programs. ASHA also establishes the Nation's first Social Hygiene Day.
1940: ASHA, the U.S. Public Health Service, and the military agree to coordinate efforts to control venereal diseases in the event of war.
1945: Boxer Joe Louis joins ASHA for a major public awareness campaign.
1954: ASHA begins to monitor rates of venereal disease by collecting data that was then analyzed by the Centers for Disease Control and Prevention "Today's VD Control Problem" published by ASHA until 1975. ASHA testifies before Congress, as it continues to do today, to urge adequate federal appropriations for VD control.
1959: ASHA changes its name to the American Social Health Association.
1970s: Dramatic rise in sexually transmitted infection rates because of international travel, the sexual revolution, gay liberation and increasing drug use. Scientists recognizing more and more sexually transmitted pathogens. Genital herpes, human Papillomavirus (HPV), hepatitis B identified.
1973: ASHA launches its first modern public awareness campaign, VD is for Everybody
1979: ASHA creates the National Herpes Resource Center, which includes the National Herpes Hotline.
1986: ASHA opens National AIDS Hotline, the largest health-related hotline in the world.
1998:  ASHA establishes the National STD Action Plan, the HPV and Cervical Cancer Prevention Resource Center, and Stop the Spread of Herpes Campaign.
1999:  ASHA opens the National HPV and Cervical Cancer Prevention Resource Center with hotline.
2012:  ASHA changes its name to the American Sexual Health Association.
We have a long history of delivering the facts, the support, and the resources to answer your questions, find referrals, join support groups, and get access to in-depth information about sexually transmitted infections and sexual health. You can be assured that the information you find on this website is based upon well-researched and documented medical facts.
ASHA Today
ASHA specializes in communications outreach to the public, patients, press, providers, and policy makers by developing and delivering sensitive health information through many vehicles such as our websites, ashasexualhealth.org, iwannaknow.org (for teens and young adults), quierosaber.org (in Spanish), and nccc-online.org (site of the ASHA program, National Cervical Cancer Coalition).
Public and college health clinics across the United States order ASHA's educational pamphlets and books to give to clients and students. Community-based organizations depend on ASHA, too, to help communicate about sexual health information.
To learn more about ASHA today, check out our What We Do page.